Teams Lab ― Singapore's Most Voted Organization for Arranging Team Bonding Activities and Group Building Exercises!
Getting worried each time your delegates perform under expectations isn't another thing for a corporate leader. If you want to take your corporate team to a whole new level ― Get registered with Teams Lab's group building exercises in Singapore!
To be completely honest, the most promising component of team building practices in Singapore is that they serve as a device to bring everybody on a similar objective. It ties them in an exceptional bond and gives them a way to communicate with each other.
We help small and medium size organizations to accomplish their objectives in a more prominent, quicker, and better way by. We accentuate your team members on profitability and inspiration. Our projects are particularly intended to upgrade work environment energy and enhance the comprehension among them by manifolds.
There are 1,000 issues in team bonding and Team Labs is the lone ranger!
We are here to help you with setting up the gigantic experience of your life.
Contact Teams Lab to start today!
Offering Exclusive Packages for Group Building and Team Bonding Exercises
Teams Lab ― Helping You Form Teams And Bonds That Can't Be Effortlessly Broken…
Team Building Activities in Singapore ― We have the secret key to your team's success

Group work and team bonding in Singapore, or anyplace in the universe happens when everybody meets up and takes care of an issue as a team ― they learn together, expand together, and bond together.
Teams Lab ― Providing Customized Group Building and Team Bonding Exercises in Singapore
It is no secret that when your teammates are strong and they have no differences among them, it can help you as a leader on a massive scale. You can make them understand the mission and core values of the group without causing any confusion and making it sound like a challenge.
Team building exercises are a way to ensure that each person from your team is working on the collective goal. When people come together, they interact, share ideas, and work on a single thing ― they understand each other better and expand their insight together.
Team Building benefits both leaders and team members.
The leaders can distinguish the shortcomings and qualities of their team members
Team leaders can investigate the difficult situations and attempt to annihilate them
Trusted by 1200+ Companies
How to Book a Slot for Team Bonding Activities at Teams Lab
Prepare for an energizing activity presented to you by Teams Lab.
Teams Labs offers a unique experience that helps you connect with everybody. If you are intrigued by the offers, you can request a personalized quote by Teams Lab and we will get in touch with you soon.
If you want to know the procedure of booking a slot with Teams Lab, take a look at this simple guide that we have prepared just for your convenience.
Request a quote
Add all the required fields
Wait for us to make your plan
Take a look at our exclusive deals. Contact
Teams Lab for further details!
Get Ready for the Best Team Building Experience in Singapore with Teams Lab
Need a companion to design out your next corporate group building exercises in Singapore ― somebody who comprehends the problem areas and assists your workers with welcoming them in the same spot? We have you covered with our range of outdoor activities! 
Outdoor Games and Team Building Activities Like No Other in Singapore ― Presented to you by Teams Lab
Archery Tag in Singapore
Laser Tag in Singapore
Bubble Soccer in Singapore
Our team building exercises are intentionally made to help everyone experience something they have never imagined. Putting an accentuation on knowledge, inventiveness, and group bonding, we help you with making things that get imprinted in everybody's thoughts.
Family Events and Parties ― We Do it All
Other than corporate plans, workplaces, and schools, group holding exercises are an incredible component for bringing everybody close in the family. 
We help you plan practices for every extraordinary occasion in Singapore. Occasions that are close to your heart and hold sentimental values. Regardless of whether it is a birthday celebration or Christmas, our exercises assist individuals with interaction. 
Group Building Activities in Singapore can help you in more than one distinct manners: 
Your colleagues and related get comprehend the reason and objectives in a snappier and better manner 
You get to the center of the gathering and fathom their challenges in consistently work 
Your assemble a degree of solace with everybody and become acquainted with them better
Outdoor Games Offered
Laser Tag
Laser Tag is a great game for bonding in a safe and competitive environment. Take a break from the office routine and indulge your team in some quality time together by tagging it out in an interactive game where players attempt to score points by tagging targets and opponents with a laser gun.
Archery Tag
Archery Tag is an outdoor team building game, a great way to bond with your colleagues, friends, and family through playing a stimulating and highly competitive adaptation of Dodgeball. To play Archery Tag, players use bows to eliminate opponents by shooting them with safe foam-tipped arrows.
Learn More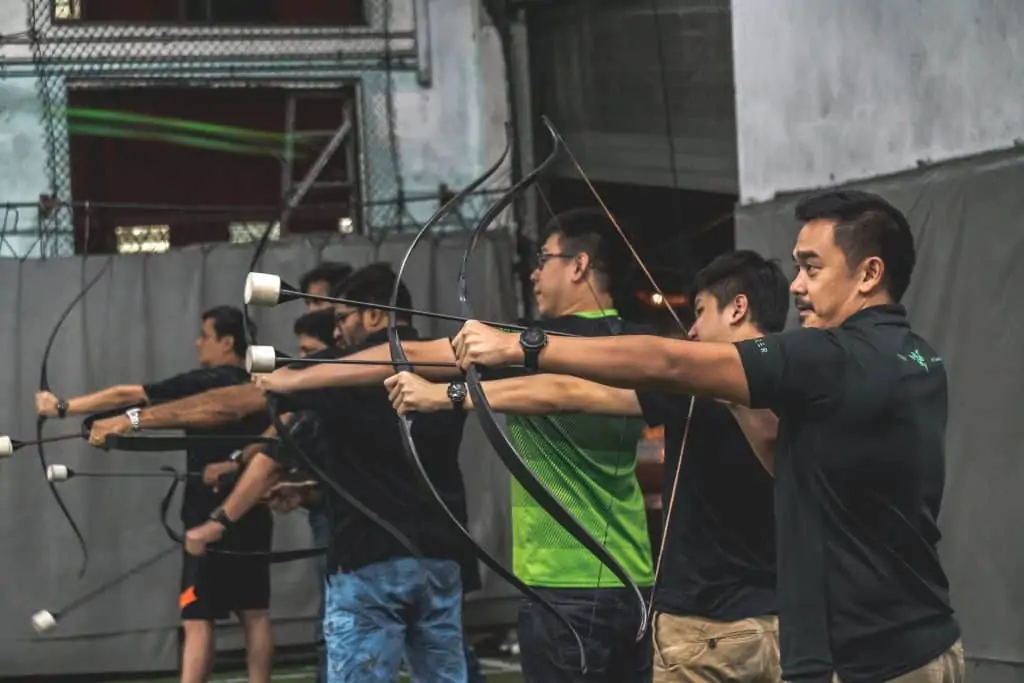 Bubble Soccer
In our Bubble Games, players will don giant inflatable Bubble suits that will allow them to roll and bounce around the playing arena while having loads of fun and laughter. We have planned out 4 exciting game modes that all involves teams having to work together and strategize the best game plan to win the games. Players will learn key skills such as team communication and teamwork.
Experience Better Outcomes With Teams Lab
The power of team bonding activity is immense. 
As you might expect, it can set up a positive and engaging climate that bolsters each member and makes them autonomous ― they will not need directives at some point they can do everything on their own.
We assist you with conveying the message in a more clear and quicker voice. 
Pleasant Exercises and Promising Games for Team Bonding in Singapore are a Possibility ― Thanks to Teams Lab
Why Choose Teams Lab for Group Bonding Activities in Singapore?
Goals are an important aspect of team building. They provide you worth along with achievements that you've never thought ever. If your team doesn't have a goal, it means they are sailing a boat without a destination, or shooting arrows in the air without any aim. 
We help you plan your way to those goals! 
If you are still wondering whether or not you should give us a call ― then hear this out. 
Group building and preparing programs for everyone in your team and family 
We have the correct devices and procedures to expand human potential
Deriving positive energy from your team members 
We help your team set a mission by bringing them close
Wide list of exercises for group building and team bonding 
Useful exercises and creative apparatuses to achieve outcomes
Included with every outdoor game:
About Us
From SMEs to MNCs and Government Agencies trust Team Labs. We've engaged more than 860,000+ participants! Choose from our wide variety of outdoor team building activities designed to infuse team bonding into fun games.
Contact Us
37 Jalan Pemimpin
Mapex Building
#03-10 Singapore 577177
(+65) 6355 0329
Monday-Friday: 10am-6pm
Popular Workshops
Terrarium Workshops
Leather Marking
Art Jamming
Tiles Painting
Caliigraphy Pouch
Clay Figurine Makring
Candle Workshops
Latest From Blog
Epic Activites
© 2020-2021 TEAM LABS